A guest blog by Musiclab student, Andy Newland.....
For as long as I can remember, I have always had a fascination, obsession, and a love of drums. It's what always stands out for me when listening to music:
This is my story……
Way back when I was about to enter my last year at school, there was an open evening taking place. Unbeknown to me, my father had spoken to the music teacher about the possibility of me having a go on the school kit. The school band had been playing a few songs and Dad seized the chance when they were on a break! I sat down behind the kit and started thrashing around without really knowing what I was doing, but I was hooked!! From that night Dad fashioned a circular plinth for me, to the size of a snare drum (covered in some spare carpet) "Got to nail those paradiddles son" is what he used to say. I also started having music lessons in that last year too, but the attraction of playing football presented itself, and the music stopped. That was back in 1975 and the dream of being a drummer disappeared………Until 2011.
My life had changed considerably, and , a friend of mine (Chris Hart) told me that he & his wife followed a music school called "THE MUSICLAB" and they had a student gig in my cousins pub (The Golden Lion, Hoddesdon) in December; and did I fancy meeting up to have a listen to the students? I accepted the invitation and duly went along. The pub was packed and everyone greatly enjoyed the variety of music and effort coming from these students.
"I've always wanted to learn to play the drums Chris" I said to him, "Well" replied Chris "I'll introduce you to Neil (Anderson), he runs The Musiclab. Have a chat to him and see where it goes"
Later that evening Neil and I met and I expressed a desire to learn to play. "Drop me an email in the New Year and we'll arrange a trial lesson for you" says Neil. This naturally happened, and (I think) on January 7th 2012, I eagerly arrived at The Musiclab, where I was greeted by Dom, the tutor. He gave me a few things to try and after what seemed to be the quickest of hours he said to me "Well Andy, what do you reckon?" I turned to him and with a beaming smile said "Where do I sign?"…….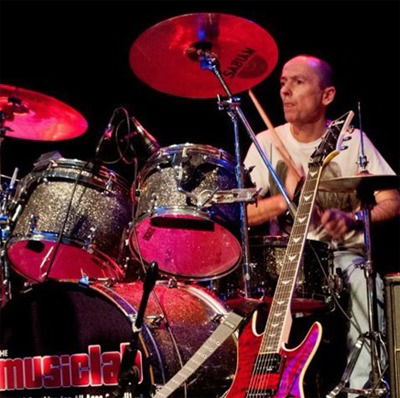 I have been having lessons ever since, and in that 1st year I had the opportunity to take part in my first student gig at the Corn Exchange Hertford, playing 2 songs; "Slideaway" & "You're Wondering Now", with the guys from the band Homegrown no less. And until I draw my last breath, I will never forget the feeling of walking off stage after that first song… I was absolutely buzzing!
The following summer I enrolled to The Musiclab summer sessions, which is a series of workshop-style sessions that continue during the summer break. As I walked in I didn't notice a guitarist sitting on the floor as she unpacked her pedalboard etc. During the lesson I got chatting to said guitarist (Becky Phillips) "Where do you want this to go?" she asked, "A band possibly?"
"I have never really thought of that, I just want to learn to play" I replied. Anyway, the lesson went well and we said our goodbyes, but two days later I had a message from another Musiclab tutor, (Pabz) to say that someone at the lesson the other night wanted to have a chat, as she "has an idea!" I finally caught up with her and she said she was looking to put a band together and would I be interested in being the band's drummer??! I was gobsmacked, and then gratefully accepted.
We met at The Farm Factory Studios, along with then bass player Mark and just jammed along for a couple of hours to The Stereophonics "Dakota" (a personal favourite of mine) and from that our band, "Dakota Smile" was born. We added another guitarist (rhythm man Alan) and decided on a female vocalist. After a trial with Jeanna - which never really worked - Sammy B joined us, and with her powerhouse vocals the line-up was complete.
We started to rehearse rigorously, and then tried our hands at a few 'Open Mic' evenings, to gain experience and confidence (The Glen Club in Watford was very supportive). Some cameo bookings followed, and our 1st Saturday night gig was in The Sibthorpe Arms in Welham Green, in the late summer 2014, where, as beginners we did rather well. In fact, so much so they re-booked us!!! And still keep re-booking us. Then, later in 2014 we landed a gig in The Golden Lion in Hoddesdon - where for me, it all began.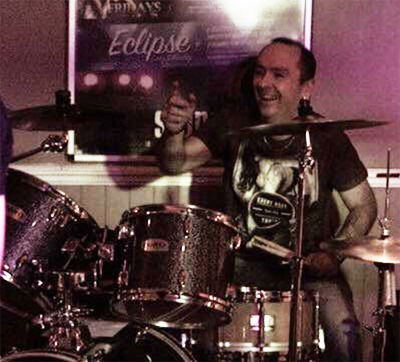 We have had a VERY busy 2015, including a couple of festivals (Stotfold Steam Fair being a particular highlight, along with The Hertford Musical Mystery Tour) and have already secured 20 + gigs for 2016.
With regular bookings in The Golden Lion, my story has gone full circle. And with various line-up changes (Becky is now moving on, and 3 bass players later…) I am the only surviving original member. The band, and playing drums, is my passion. Even though we only ever set out to 'have a bit of fun', it's when you get a positive reaction from people and you experience the massive adrenalin rush from playing that makes you want more.
I'm very proud of myself for achieving what I have, which proves the old adage "you can achieve anything you want to if you put your mind to it". I will always be grateful to Neil and the tutors at The Musiclab, for the encouragement, belief (& patience), Becky Phillips for giving me a shot from that chance meeting at a lesson, and many other drummers who have offered support & tips (they know who they are!!)
But most importantly to my late father who got me sat behind that kit at school.
I did it Dad x