The Musiclab Live: The Corn Exchange, Hertford - Saturday 11th and Sunday 12th May 2013
This weekend saw us back at the Corn Exchange with a weekend of great entertainment. This time around we had a full on Rock Classics theme featuring our brand new vocal tutor Lucy.
Bon Jovi, Guns 'n' Roses, ACDC, Led Zeppelin - big hair, vests, heavy riffage and quarter-note drum patterns firmly to the fore, we were treated to Lucy's impressive range and power along with some excellent vocal performances from Louise, Charlotte, Rhys and Nick. It's great to see the confidence growing in these guys!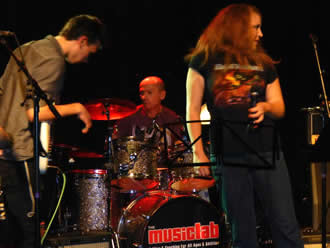 Also making their debut this weekend were our keyboard students and we enjoyed some confident and slick performances from the students who integrated seemlessly with some of our guitar groups. Fatma has been making great strides with them and i'm really pleased to see the bond she is building with the students. This is an important factor in being a successful teacher. It doesn't matter if you are the finest musician in the world, if you can't relate and communicate with your students, you will never be a good teacher. It was great fun to have Fatma join The Labrats on stage to add that extra layer to our opening tunes.
Speaking of the tutors, it's great to see how much flexibility and versatilty the tutors are developing. For example, it's really pleasing to be able to decide off the cuff that we need organ on Louie Louie and to be able to put new guitar tutor, Jack on the spot and ask him to play the keyboard parts without him batting an eye. Paolo is switching between guitar, vocals, bass, keyboards and drums. Dom is a very creative and technically excellent drummer, but is now developing into a highly skilled bassist too, he took his turn at the piano. What's great about this is the not only the experience that they are gaining, but the "can do" attitude and the professional example they are setting for our students.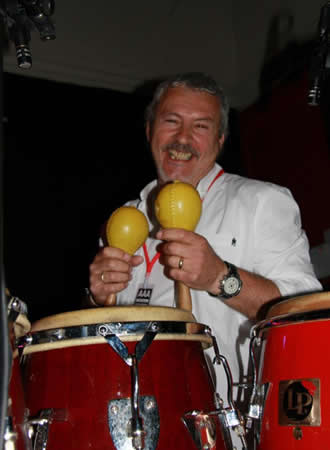 With regard to the performances themselves, we started on Saturday evening with our adult students. We had lots of newbies making their debuts (although quite difficult to tell!), plus students who have been with us through one, two, three performances, including several who have been involved in all of our student gigs as far back as 2008. You can tell who they are by their cool, unflappable demeanour prior to the gig!

It's great to see first-timers breaking through the nerves barrier and coming out the other side with a big grin on their face. Just as satisfying is seeing the more experienced come back having learned from previous gigs, having progressed on their instrument in the interim and get even more out of the whole gig experience.

Overall, I was very pleased with the atmosphere, the quality of the performances and of course, the vests! Great stuff!
The Sunday sessions kicked off at 2pm with our youngest students. We had a drummer as young as five onstage for I Love Rock and Roll and the rest of the students in this session were all under 11 years of age. Although I was really pleased and impressed with all of the performances over the weekend, I think this session was where I noticed the biggest improvement in the students. They really did a great job and were encouraged and supported by a brilliant crowd of family and friends.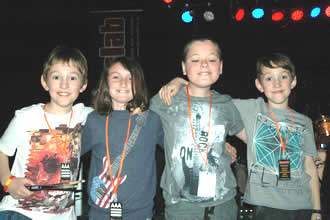 Finally, our third session of the weekend involved our students aged between 11 and 18. This session provided a fitting finale to the weekend's performances and it was great to see so many students growing in confidence and stature as musicians with some fine performances with the featured genre of Classic Rock quite clearly to everyone's liking!

Overall, I am extremely proud of what our students have achieved with the help of our superb team of tutors.
Thanks again to the staff at the Corn Exchange, Ben - our engineer for the weekend who makes sounding great stress free and Sarah and Louise for looking after the door for us on Saturday night and Sunday respectively. Massive thanks to the tutors - Jack, Lucy, Fatma, Dom & Paolo. Thanks to all of you who came along and supported, making the event so special. And finally, thanks to all of our fantastic students! Well done guys! We look forward to seeing you at the next gig!